Y'all, is there anything better than an awesome used book sale? The answer is no - At least in my eyes. This week is the very, very best sale at least in JoCo as the Friends of the Johnson County Libraries host their Sizzlin' Summer Book Sale. If you've never experienced the pure joy of walking into a gymnasium full of books, you're missing out on life.

See? SEE. Isn't it beautiful.
In honor of this sale and any other book sales you might find yourself at, I'm offering up my best tips for scouting a sale.
1). Become a Friend. As far as perks of being a friend of the library go, the biggest one is early access to book sales. Most sales even allow you to purchase your membership on-site! The benefit of the early access is the crowds are usually a bit smaller, and you get first look at inventory. Beyond just this sale, being a friend gets you regular discounts at the used bookstores in the libraries.
Time Out: These bookstores are a great place to find reasonably priced used books throughout the year. If you aren't shopping here, you should be! In addition to being able to find a great deal, your dollars go towards helping the library.
2). Volunteer. Another secret to getting the most out of the sale is signing up to help out. For the JoCo sale, you actually earn Book Bucks (think Monopoly money, but for books!) you can then use to buy books. In other words, they're literally giving you books to volunteer your time!
3). Have A Plan. The good news is there are SO. MANY. BOOKS. The challenge is there are SO MANY BOOKS to look through. That said, it helps to have an idea of what you're wanting to find. First of all, prioritize your genres. Start with the are you are most pumped about checking out because your energy is highest. For me, that's general fiction. Most sales will have signs marking each genre, and for the really huge ones, they'll even have maps!
I'd suggest getting even more specific and building a list. I do this with Goodreads. Throughout the year, I maintain a sub-list in my Want To Read section. It's called my Wish List, and it's the books I haven't yet read. When it comes time for a big sale, I take the time to read and review this list to commit some of the book titles to memory. I told y'all I was serious about this!
I
don't remember every single book, but as I'm looking it helps to have something that might catch my eye. Because y'all should also know that at most large book sales these books aren't going to be in alpha order. When you're scanning rows and rows of books, you need to have something that triggers that "Oh, I remember that title!" switch in your brain.
For reference, it's going to look a little like this, so you can see why this might be helpful.
Generally, you shouldn't expect to find anything that was released in the last year. If you go early, you might find a diamond in the rough, but those finds are going to be few and far between. Oh, and I also make sure to review the list of books I already own, but haven't read yet. This is mostly because I have a bad habit of buying books I've previously own/read, but that may just be a me problem.
4). BYOB: Bring Your Own Bags. I cannot tell you how many people I see at these sales struggling to manage a stack of books in their arms because they buy way more than they planned. An easy fix for this is to bring a reusable bag. I'm a super nerd and actually bring a roller cart, but if you're not quite on that level (and that's okay), something you can easily throw over your shoulder is indispensable.
This is my book cart of choice - The Smart Cart!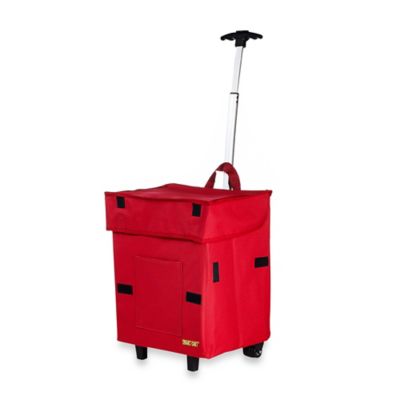 5). Have fun! Yes, this is a totally cheesy tip, but y'all, there is nothing better than finding your next great reads. It's like a treasure hunt for bibliophiles, and there's just nothing like it. Seriously.
Happy Hunting y'all!